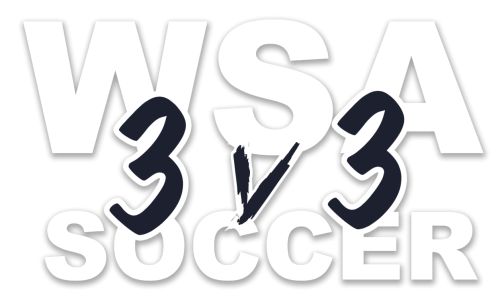 Summer 3v3 is Back for 2023!
WSA is now offering a summer 3v3 league for boys and girls. We will have age groups from U8 to U15. We are offering competitive and recreational skill levels, so there is something for everyone! Open to players from other clubs and programs!
We launched this program the summer of 2021 with 4 age groups and have quickly expanded every year!
What is 3v3?
3v3 is a small-sided, fast paced game format with 3 players versus 3 players on the field. It is played on a small field with small goals and no goalkeeper. This format is great for maximizing all players' touches on the ball to quickly increase their skill level and confidence on the field. In a small format, they will have many chances to touch the ball and defend.
We feel that 3v3 helps emphasize development of the technical skills needed to play possession-style soccer. Receiving, passing, quick decisions, moves, combination play, tackling, moving to space, and more.
Cost
$70/person – Includes 2 games per week with referees, and a high-quality reversible pinnie! (There is a $10 discount for those that are using last year's pinnie. Everyone is required to have a 3v3 pinnie).
Teams
5-6 person teams – You can form your own, or we will assign a team for you.
Format
Small field (40×25 yards) with 4'x8' goals. 3 players versus 3 players with no goalies.
Events
Weeknights at Carroll Community College. Schedule will include up to 10 matches and will be 20 mins. Full rules here
| Event | Date |
| --- | --- |
| 3v3 Clinic | Week of June 12 |
| Week 1 | Week of June 19 |
| Week 2 | Week of June 26 |
| Week 3 | Week of July 3 |
| Week 4 | Week of July 10 |
| Make-up Games | Week of July 17 |
| Final Week | Week of July 24 |
Vacation plans?
Of course, it's summer! One of the reasons for 4-5 person teams. Also, we will have chances to reschedule.
Questions?
Email: [email protected]
FAQs
Will the league be co-ed
Teams can enter co-ed for either competition level. We'll send out more information once we are complete sign-ups.
What time will games start?
Games will start later in the weekday evenings due to the summer heat. Games will start no earlier than 6:30pm.
Will teams have a coach?
We will request each team to designate at least one parent to handle substitutions. The rest, we let them play!
Will there be referees?
Yes, we will have WSA referees officiating. One referee per field. What they say goes!